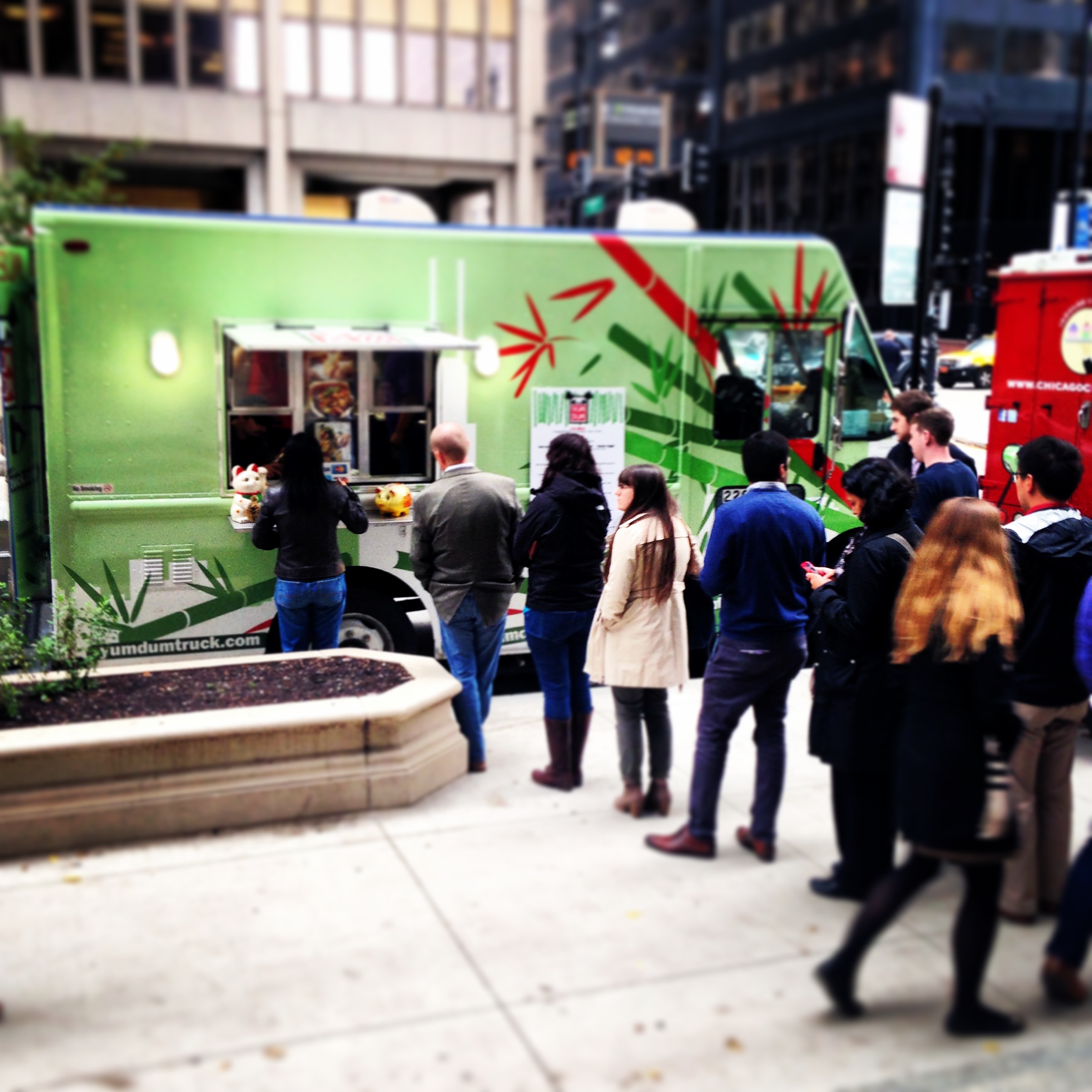 YUM DUM
DUMPLINGS × BAOWICHES × RICE BALLS
Our Story
Chicago is one of the premier culinary cities in the world, now boasting an up and coming food truck scene. We're proud to share our culture through our food - simply described as "Mom's home cooking." Thanks for sharing our journey with us!
July 2014, the Yum Dum Truck rolled out onto the streets. Not really knowing what to expect, we just wanted to share the food we grew up eating with you. Growing up in a restaurant family, Chef/Owner Jeff Wang knew he would find his way back into the kitchen. He just didn't know that kitchen would be in the back of a truck. Just over a year later, we've built up a large following, been featured in Chicago's most iconic events, and nominated for several accolades including the title as one of 'Chicago's Best Food Trucks.' We look forward to feeding you soon, Chicago!
Want to book the truck? email us at jeff@yumdumtruck.com
When it comes to special events and catering, The Yum Dum Truck knows how to deliver! Yum Dum is perfect for every event from office parties to weddings. We will work with you to customize a menu that fits your party's needs. Catering events can come with or without the truck.
For more info or questions on menu and pricing, contact Jeff@yumdumtruck.com
BOOK US
Are you looking to book the truck for an event? Organizing food vendors for a fundraiser? We would love to be there! Please send your event inquiry and details to Jeff@yumdumtruck.com or fill our the form below. We will be in touch to discuss your inquiry.
Dumpling Making Parties
Want to learn how to make dumplings? We'll teach you! Whether it's hosting clients, date night, or just having fun with friends, we can accommodate groups of all sizes. We will provide all the tools, ingredients, and sauces. All the guests have to do is come ready for hands-on dumpling assembly. We'll provide a demonstration on different ways to fold dumplings and then have guests try it themselves. At the end of class, we will have a family style meal with all the dumplings we made ourselves. Just remember, ugly or pretty, they will be delicious!
Reserve your date today! Please send an inquiry to Jeff@yumdumtruck.com with as much info as possible or fill out the form below.
Featured on WGN's Chicago's Best - Food Trucks!
Featured on 'Day of Gluttony' 24 Chicago Restaurants in 24 Hours